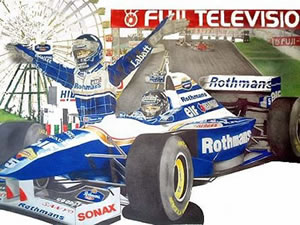 "Damon Hill, 1996 World Champion"
Ref: BC006
by Brian Casey

Limited edition of 500 prints (with cert)

Size: 18 x 24 in. Printed on 310 gsm acid free paper,using light fast inks

Damon Hill 1996 World Champion (a personal tribute). Sheer Brit and determination as White (5) joins Red (5). This print captures the moment that Damon entered the Parc Ferme and the realisation that he had finally achieved the highest accolade in motosport, the winning of the F1 World Championship.